Data Deduplication with QGate's Paribus Discovery™ for Infor CRM (Saleslogix)
QGate Paribus Discovery™ for Infor CRM (Saleslogix) eliminates waste, saves money and improves your company's brand by enabling the consolidation and refinement of your CRM data. Based on Paribus' established data matching functions, QGate Paribus Discovery™ for Infor CRM enables the merging of duplicate records to create a more profitable and valuable data.
If your database is full of duplicates...
If you risk degrading your data every time you import a new list...
If you need to de-duplicate your data WITH NO LOSS OF DATA...
If you need to retrieve specifically retained duplicate entries...
... you need QGate Paribus Discovery™.
---
QGate Paribus Discovery™ benefits:
QGate Paribus Discovery™ finds matching data for you to review and delivers benefits irrespective of your market, size or operation. By identifying matching data, Paribus delivers
the ability to then consolidate, integrate or de-duplicate your system. You can:
Increase sales and marketing effectiveness and productivity,
Reduce sales and marketing costs,
Improve customer perception and satisfaction.
Key Features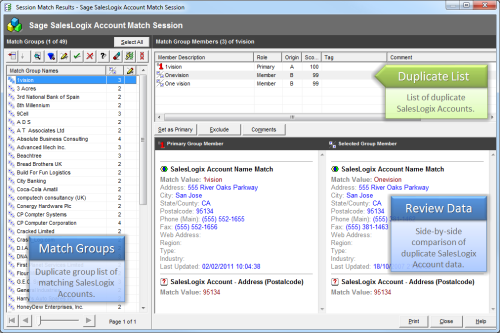 Works on any ODBC-connected database.
Enables direct data access - no need to import your data.
Uses an independent control database for review so you can review matches from your live data without changing it.
Provides fully definable matching rules.
Matches on multiple elements of data.
Fuzzy matching gauge control enables granular field level matching.
Gives business users the ability to manage matching processes without requiring programming skills.
Easy to use interface.
Provides easy review and management of match results.
Exports match information for use with other external applications for data import and de-duplication.
Schedules heavy processing loads to be done when most convenient.

Custom technology for Infor CRM
QGate Paribus Discovery™ for Infor CRM (Saleslogix) enables data merging well beyond the standard Infor CRM merge function and maintains data integrity even within systems with remote databases:
Integrates with v6.2.4  to v8.x of  Infor CRM
Generates audit reports on all changes made to a Infor CRM database
Synchronizes associated record merging
Maintains full data integrity
Custom technology for data migration
Paribus Discovery™ for Infor CRM (Saleslogix) now includes new plug in technology for data migration with Inaport and Scribe.
---
Try Paribus Discovery Yourself
Take our 30 Day Free Trial today to find out how many duplicates you have in your Infor CRM system and how you can remove them.  
Further information can be found on the ParibusCloud website.