QGate Paribus Discovery™ for Sage CRM - data de-duplication solution
QGate Paribus Discovery™ for Sage CRM eliminates waste, saves money and improves your company's brand by enabling the consolidation and refinement of your Sage CRM data. Based on QGate Paribus' established data matching functions, QGate Paribus Discovery™ for Sage CRM then enables the merging of duplicate records to create a more profitable and valuable data.
If your database is full of duplicates...
If you risk degrading your data every time you import a new list...
If you need to match your data against other data sources...
If you need to retrieve specifically retained duplicate entries...
... then you need QGate Paribus Discovery for Sage CRM which supports:
Sage CRM V7.2 and above
Sage 200*
Sage AccPac / Sage 300*
Sage 1000*
*Please Note:  Merging records within in the CRM will not carry out the merges in the finance applications.
---
QGate Paribus Discovery™ Benefits:
QGate Paribus Discovery™ finds matching data for you to review and delivers benefits irrespective of your market, size or operation. By identifying matching data, Paribus delivers the ability to then consolidate, integrate or de-duplicate your system. You can:
Increase sales and marketing effectiveness and productivity,
Reduce sales and marketing costs,
Improve customer perception and satisfaction.
Key Features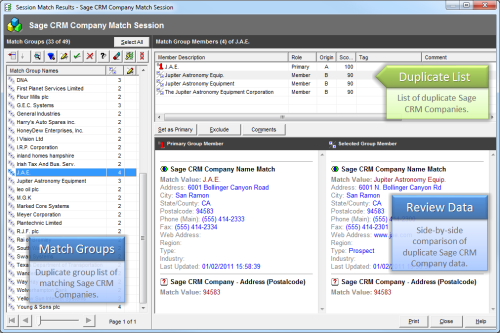 Works on any ODBC-connected database.
Enables direct data access - no need to import your data.
Uses an independent control database for review so you can review matches from your live data without changing it.
Provides fully definable matching rules.
Matches on multiple elements of data.
Fuzzy matching gauge control enables granular field level matching.
Gives business users the ability to manage matching processes without requiring programming skills.
Easy to use interface.
Provides easy review and management of match results.
Exports match information for use with other external applications for data import and de-duplication.
Schedules heavy processing loads to be done when most convenient.
QGate Paribus Discovery™ Videos:
Watch our series of videos to see what our Paribus Discovery product is capable of:
Product Demonstration
How To Set Up A Match Session
How To Run A Match Review
---
Try Paribus Discovery Yourself
Take our 30 Day Free Trial today to find out how many duplicates you have in your Sage CRM system and how you can remove them.
Further information can be found on our ParibusCloud.com website.