Data De-Duplication with QGate's Paribus Discovery™ for Microsoft Dynamics CRM

QGate Paribus Discovery™ for Microsoft Dynamics CRM eliminates waste, saves money and improves your company's brand by enabling the consolidation and refinement of your CRM data. Based on Paribus' established data matching search engine, QGate Paribus Discovery™ for Microsoft Dynamics CRM then enables the merging of duplicate records to create a more profitable and valuable data.
If your database is full of duplicates... 
If you risk degrading your data every time you import a new list... 
If you need to de-duplicate your data 
If you need to retrieve specifically retained duplicate entries...
... you need QGate Paribus Discovery™.
to process your data into one "complete" master record.
---
QGate Paribus benefits:
QGate Paribus™ finds matching data for you to review and delivers benefits irrespective of your market, size or operation. By identifying matching data, Paribus delivers the ability to then consolidate, integrate or de-duplicate your system. You can:
Increase sales and marketing effectiveness and productivity, 
Reduce sales and marketing costs, 
Improve customer perception and satisfaction.
QGate Paribus Discovery™ is a powerful and simple tool to find and remove duplicate data in Microsoft Dynamics CRM. With the pre-defined data mappings for Microsoft Dynamics CRM, you can be up and running in 15 minutes.  Paribus Discovery for Microsoft Dynamics CRM supports Microsoft Dynamics CRM 2013 and 2015 Online and On Premise.
QGate Paribus Discovery™ for Microsoft Dynamics CRM brings new function to one of the market's leading CRM systems and includes plug in technology for data migration with Inaport or Scribe.
Key features
Details of the key features of our de-duplication software can be found either in the Product Tour or in the Product Overview on the dedicated ParibusCloud.com site.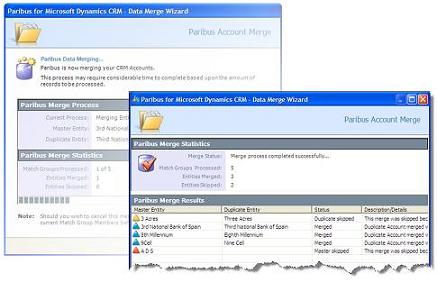 ---
Duplicate Avoidance
Paribus Discovery is able to identify and resolve duplicates within your Microsoft Dynamics CRM, to avoid entering duplicates at data capture stage, see our Paribus Interactive solution.
---
Try Paribus Discovery Yourself
Take our 30 Day Free Trial today to find out how many duplicates you have in your Microsoft Dynamics CRM system and how you can remove them or visit ParibusCloud.com for more information.