QGate intelli-CTi™ for Sage CRM - CRM & Telephony Integration
Generate new efficiencies from your Sage CRM system by integrating it with intelli-CTi for Sage CRM. Screen-pop inbound calls and dial contacts and companies at the touch of a button. You can also use the call lists and new groups functions in Sage CRM so your campaigns and telesales activities are more productive than ever before.
QGate intelli-CTi™ for Sage CRM supports:
Sage CRM V6.0 to V7.3
Sage 200
Sage 300 (AccPac)
Sage 1000
and enables you to optimize your investment in your Sage CRM and Telephony infrastructure. Providing a seamless telephony integration with Sage CRM delivered in a cost effective and user friendly manner.
---
QGate intelli-CTi Benefits:
| | |
| --- | --- |
| Improved customer service levels | by identifying the caller and having their details instantly available even before you answer the call. |
| Increased staff productivity | by allowing you to handle more incoming calls and increasing the speed and efficiency of outbound calling. |
| Increased return on marketing investment | by identifying calls that are associated with marketing campaigns, enabling effective marketing campaign evaluation and management. |
| Reduces costs | through reduced call time and the ability to answer calls more efficiently and quickly, leading to improved productivity and lower overheads. |
Key Features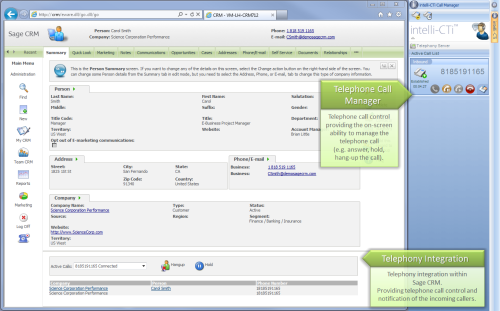 Enable incoming calls to instantly activate your database.
Enable screen popping of relevant information when you make or receive a call
Increase the speed and accuracy of outbound calling by enabling direct call handling from within Sage CRM applications.
Log missed calls for call backs to ensure you never miss a potential customer.
Use SoftPhone features which enable on-screen dialing, on touch telephony, favorite number dialing.
Customizable user preferences and LCD style displays providing visual feedback of call status. 
You can deploy intelli-CTi™ for Sage CRM in a wide variety of configurations, including Automatic Call Distribution (ACD) systems and Integrated Voice Response (IVR) environments. This is another example of how QGate intelli-CTi is phone system agnostic so you can extend the reach and value of your CRM system regardless of the phone system you use. intelli-CTi™ is compatible with most open telephone systems (TAPI, TSAPI, CSTA, Mitai, OAI and more). To find out more about the compatibility of your phone system read our QGate Phone System Compatibility List.
---
Try intelli-CTi Yourself
Take our 30 Day Free Trial today to find out how integrating your Sage CRM and Telephone system will benefit you.