Computer Telephony Integration with QGate's intelli-CTi™ Solution Family
QGate intelli-CTi™ enables the simple integration of your CRM solution and your telephony system providing Computer Telephony Integration (CTI) and the following benefits:
Streamlined telephony activity within your business
Improved customer relationships, service levels and customer satisfaction
Increased telephone call efficiency and throughput
Personalized telephone interaction - identifying callers automatically
Increased business productivity
Reduced development costs with ease of deployment and implementation
Flexible deployment capabilities across multiple sites and large scale implementations.
Adopting QGate's intelli-CTi solution provides the following CRM CTI benefits:
Support of a wide range of telephone switches, see the QGate Phone System Compatibility List for details
Support for standard telephony interfaces, such as TAPI, TSAPI, CSTA, MiTAI and OAI and Microsoft Lync
Reduced development costs with ease of deployment and implementation
Flexible deployment capabilities across multiple sites
Multiple telephone call support
Compatible with Citrix/Terminal Server
Support for Web based applications

Are you still manually dialing telephone numbers, looking up Contacts and capturing telephone call information by hand?
intelli-CTi instantly improves the effectiveness of your customer interaction and the productivity of your users. intelli-CTi enables dialing Contacts directly from within an application with a single click and automatically identifies incoming calls showing contact information before you even answer the telephone.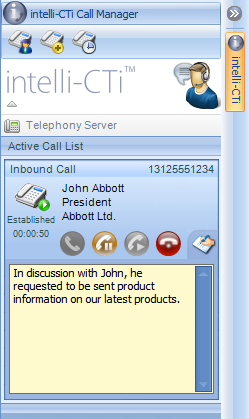 intelli-CTi provides the ability to initiate a business process/workflow within an application, based on an incoming call or outbound dialing.
Whether building solutions for call centers, support desks or customer service, intelli-CTi will increase the productivity and efficiency of your operation while enhancing customer satisfaction and bottom line profitability.
QGate intelli-CTi™ uses a very simple installation and configuration process so your CTI-enabled users can be very quickly up and running. You can also use intelli-CTi over a VPN so even if you're not physically in the office you can realize all the benefits of integrating the CRM and phone systems.
intelli-CTi will work along side such switch-based features as Integrated Voice Response (IVR), voice recording, Direct Dialing, DTMF routing, power dialing etc. This is another example of how QGate intelli-CTi is phone system agnostic enabling you to make full use of the telephony system features and still benefit from tight application integration.
intelli-CTi keeps the user in complete control
intelli-CTi is now presented within a dynamic sidebar as part of the users desktop, allowing users to fully interact with their office applications whilst maintaining complete control of the telephone call.
Each telephone call is presented within the sidebar, along with information about the caller, call control and a unique in-call note capture capability.
Microsoft Dynamics CRM
Infor CRM
Sage CRM
QGate intelli-CTi for Other Applications - System Integrators
QGate intelli-CTi has been adopted by a number of System Integrators and software vendors to provide CTI functionality within their own solutions. Our Software Developer Kit (SDK) offers a quick enablement of CTI; with a well documented interface and sample code provided. For further information please contact us.