Duplicate Data Prevention with QGate Paribus Interactive™
Empowering Every User in the Prevention of Duplicate Data
Paribus Interactive™ provides sophisticated data matching to Microsoft Dynamics 365 / Dynamics CRM in a way that enables ALL users to be aware of potential duplicate data across Accounts, Contacts and Leads.  Paribus Interactive provides instant identification of potential duplicate records as well as an enhanced lookup and search capabilities.  This means that ALL users will find existing records easily and therefore not create any duplicate entries (data).
Increasing User Adoption and Customer Satisfaction via increased data quality with Paribus Interactive.
What is Paribus Interactive?
Paribus Interactive is a Software As A Service (SaaS) based solution for Microsoft Dynamics 365 / Dynamics CRM and a hosted solution for Infor CRM, both have at their core a sophisticated data matching engine.  
Paribus Interactive performs an enhanced fuzzy search across Contacts, Leads and Accounts, and presents user alerts of any possible duplicates found, even if there are variations to the way the person's or organization's name is written.
By using its search capabilities in key areas of CRM, any user will see potentially matching existing records and select that, before they add another.  They will be able to achieve look ups more accurately and intuitively.
Employing Paribus Interactive improves both the data quality and the user adoption, by preventing duplicates and by restoring users' confidence in the CRM system.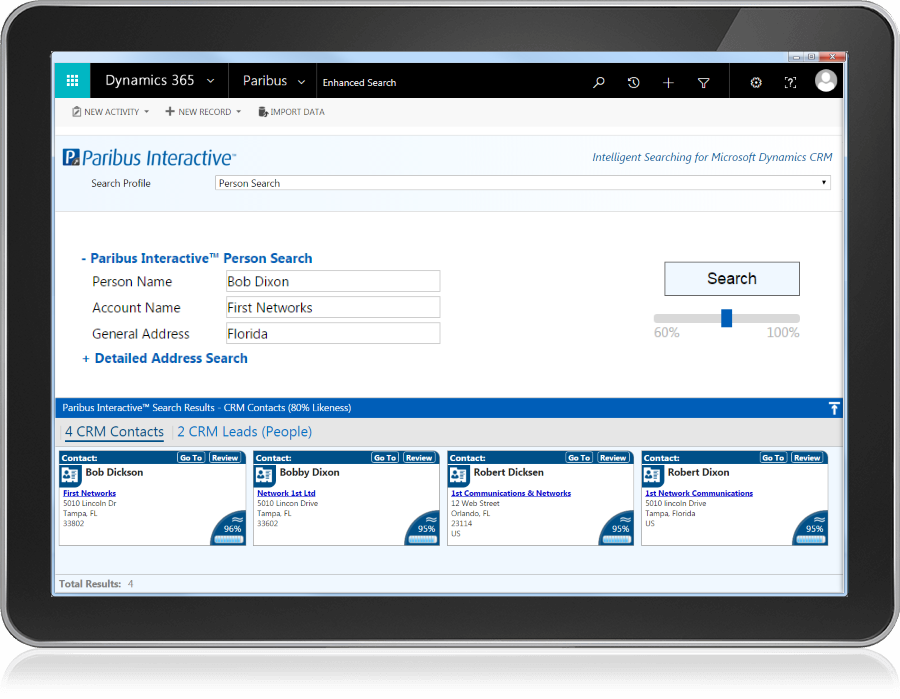 ---
Further details and a free trial are available on the www.paribuscloud.com website